Drum Kits Buying Guide In Liverpool – Which One & Where From?
We are often asked at our music school at our Liverpool Music School what kind of drum kit shall I buy and where from. Well, there are a number of options that we will look at but the main priority, particularly when first starting out, is not to spend too much!
Question number one is – Shall I buy an electronic or an acoustic drum kit?
The main consideration here is noise. Drum kits can be very noisey! Electronic drum kits can be used with headphones and even if using through a small amplifier, they will be a lot quieter than an acoustic kit. The more expensive models, from Roland at Dawsons Liverpool replicate the 'feel' of an acoustic drum kit incredibly well. But, they are very expensive and would not be recommended for a first kit.
Having had a little look around we found this inexpensive alternative on Gumtree Electronic Drum Kit and while it won't perform as well as the Roland models, it fits the bill of doing a more than reasonable job at a reasonable price.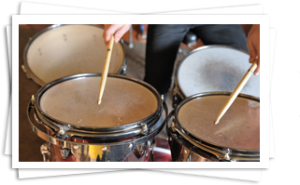 Moving on to acoustic drum kits. There are cheaper alternatives out there but I don't think you can beat Pearl for affordable, good quality kits. Locally we have the fantastic store ADC Drums based in Cheapside, Liverpool. I have been using Andy's shop since 1986 and he will give excellent service and advice. The Pearl Roadshow kit at £399:00 is great value and can be found here – Pearl Roadshow
Having had a quick look on Gumtree – there are some very affordable used kits below that will be more than suitable:
Drum Kit 2
Drum Kit 3
We have more than 30 fantastic drummers that have lessons at our music school Music Lessons South Liverpool and we will happily advise and help set up etc. – Please just ask!
Liverpool Drum Lessons – Pulse Music Lessons South Liverpool – Liverpool's Number One Music School.