Female Drummers  Rock! – Drum Lessons Liverpool!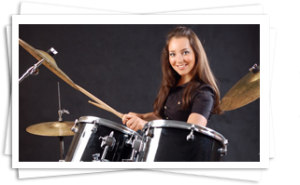 We have noticed over the past year or so that there has been an increase in girls taking up drums. Has there been a recent famous female drummer? We're not sure that there has so it's not easy to explain why this has happened. What we do know is that all of our female drummers have a great coordination and have achieved very well in grade examinations. One of our drummers plays in the pulse rock bands and two others have recently achieved Grade 2 & Grade 3 in the Trinity Drum Kit exams.
Can anyone name 5 famous female drummers? Well we had a quick poll in the office – Sheila E (Prince), Karen Carpenter (The Carpenters), Meg White (The White Stripes)…..well we managed 3!
If you're looking for something new for you or your daughter in Liverpool, check out the very best of Drum Lessons Liverpool at Pulse Music Lessons South Liverpool. We teach children and adults from age 5 – 55! We offer a free taster lesson with obligation. We have the very best teachers in Liverpool and boast state of the art teaching facilities. What are you waiting for?